Do you run an e-commerce company that offers a broad range of products and services? Do you know that various groups of customers have different expectations and this is not only the matter of gender? Marketing automation activities will help you divide your recipients, e.g. by region of their residence, number of transactions concluded in a given period or using the newsletter. Find out how you can use customer segmentation in web push campaigns.
Market segmentation is identification of customer groups sharing similar needs and behaviours. By creating segments in the PushAd panel you have a possibility of sending customised notifications. Customer segmentation is a key to success of web push campaigns!
Sending push notifications to the selected segment
We realize how time-consuming it is to create individual segments and design separate marketing communications for them.
In the PushAd panel you will find the "Subscribers" tab. When you click on it, a list will roll down. In the "Segments" module you can create a funnel which you would like to send a customised notification to.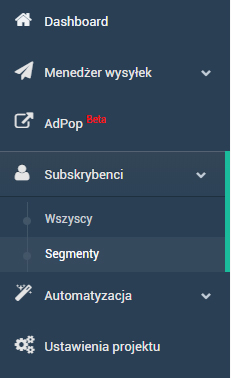 An example of created segments is a popular online store offering clothes, footwear, and accessories for women and men. The segments have been created based on individual categories of products for women and men – in accordance with the store's offer.
Thanks to the developed segments, we are able to send web push notifications to the selected segment. For example, the site is offering women's winter coats on sale. In the PushAd tool, we prepare a draft message, selecting recipients only from the "Woman" segment. So, we can be sure that we send a web push notification to the most potentially interested group of recipients among our customers.
What is more, the segments will give you unique knowledge regarding your customers' preferences. And this will allow you to improve and create a more attractive offer on the market in the future.
Customer segmentation criteria
Owing to customer segmentation and integration of sales channels, it is even easier to choose the product that best suits the customer needs. Having knowledge on the target group, it is possible to segment it by demographic characteristics, i.e. consumer age, gender, income, profession, or education. This is basic data that can be used to segment recipients, but the market is an open catalogue of features. It is worth paying attention to purchasing patterns by answering such questions as why, how, what, when, and where consumers buy.
Behavioural segmentation refers to audience behaviour and includes their most frequently viewed products on the page, checkout times, blog articles viewed, and time spent on the site. This is the introduction to more advanced sales activities that can be easily implemented owing to web push notifications. Psychographic criteria include, among others, consumer lifestyle, activities, interests, buying decisions, or habits. On the other hand, geographical segmentation requires the market division into geographical units, i.e. country, region, voivodship, town, or postal code.
Source: "E-mail marketing and marketing automation", 2019, Interaktywnie.com