Gain new customers of the online store and encourage them to visit your car showroom. Thanks to marketing automation, you have a chance to reach the audience interested in your products or services. Inform them about new products, test drives, or remind them to change tyres. With marketing automation, you have easy and quick contact with your customers.
Solutions to help you boost your sales:
Automation in the automotive industry – your company gains:
Marketing automation gives you great opportunities to reach potential and existing customers. Instead of sending traditional mass ads, you can personalize your message and reach only the selected audience. Web push notifications support a number of processes from the moment of a user's appearance on the website to encouraging them to visit your car repair shop or showroom. Thanks to the ability to determine different automation scenarios, you will adjust the offer to your customers' individual needs. Web push notifications are a perfect solution if you want to remind the customer about changing summer or winter tyres, unfinished purchases in the online store, promotions for washer fluids, or inform about a planned event. Marketing automation is a great sales support for car dealers – based on segmentation, it is possible to customize the marketing message, depending on the users' activity on the website. From now on, advertising content will be completely adjusted to the needs of your potential customers!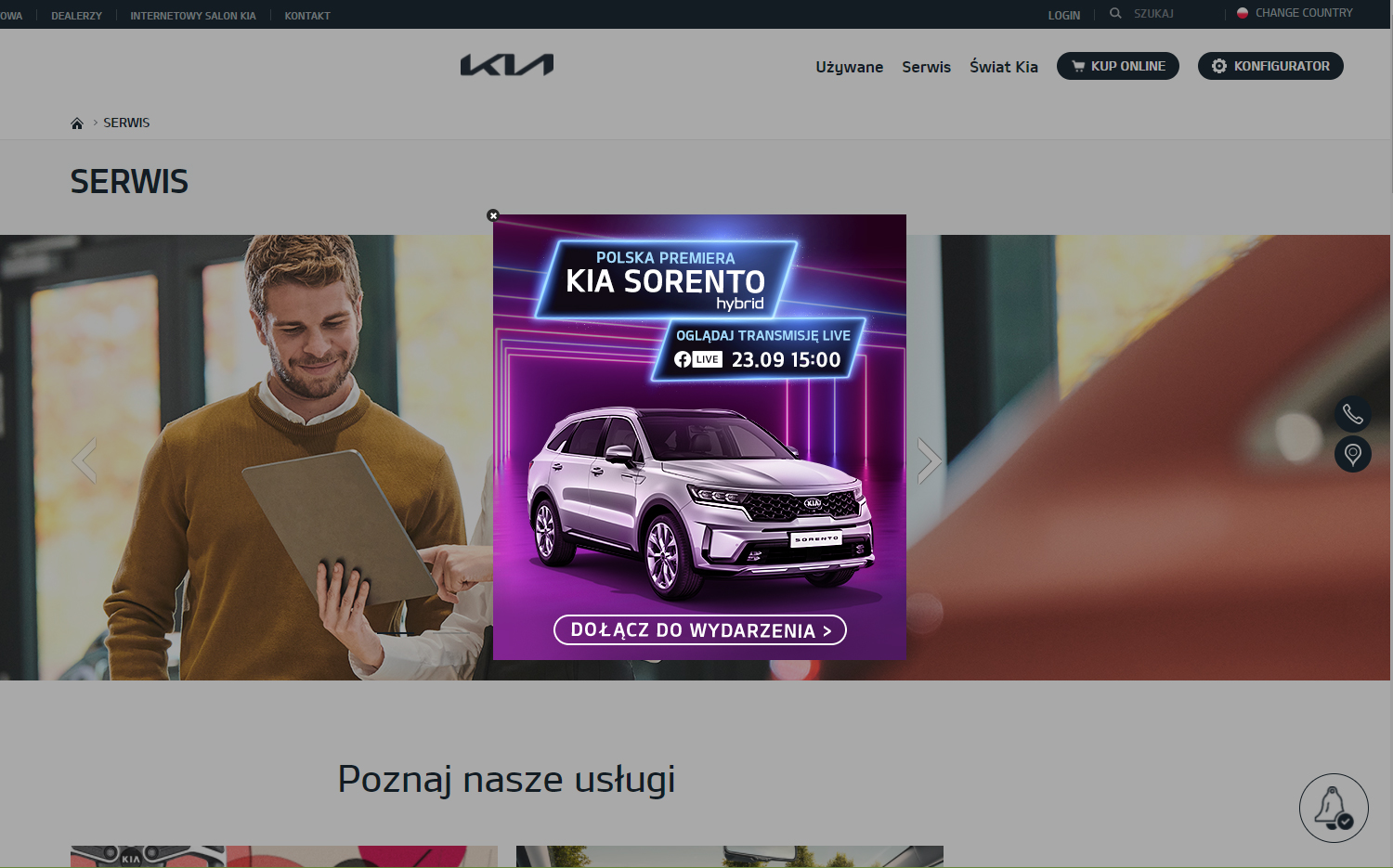 A pop-up on a website, displayed to users interested in the premiere of a new car model with an invitation to the event.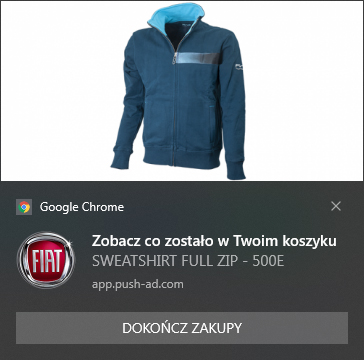 Automation in the automotive industry – your customer gains:
Sometimes your potential customers add car mats, wipers, oil or tyres to the cart in the online store, and then close the page. Sometimes they return to the online store after a few days and make a purchase of selected products. However, they may simply forget which store they have visited or can't find the site. Web push notifications are designed to facilitate the purchase of the desired products, reminding consumers to complete the transaction. Thanks to the "cart recovery function with dynamic product graphics", your potential customers will be able to easily return to the store and buy the products they have initially chosen.
Web push notifications are also a great solution if you want to encourage the customer to buy again, offering attractive discounts, or informing about seasonal sales.
Automation of marketing activities is also dedicated to car showrooms. Are you organising an event? Do you want to inform customers about the possibility of having a test drive? Or maybe you would like to remind them of changing tyres and make an appointment for a specific date? All you have to do is to display an appropriate message on the website addressed to a segmented group of users. Thanks to automation, your customers will not miss any promotion, discount, interesting event, or availability of a new car model they were interested in.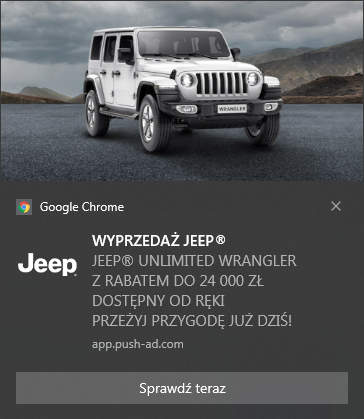 A notification of seasonal sales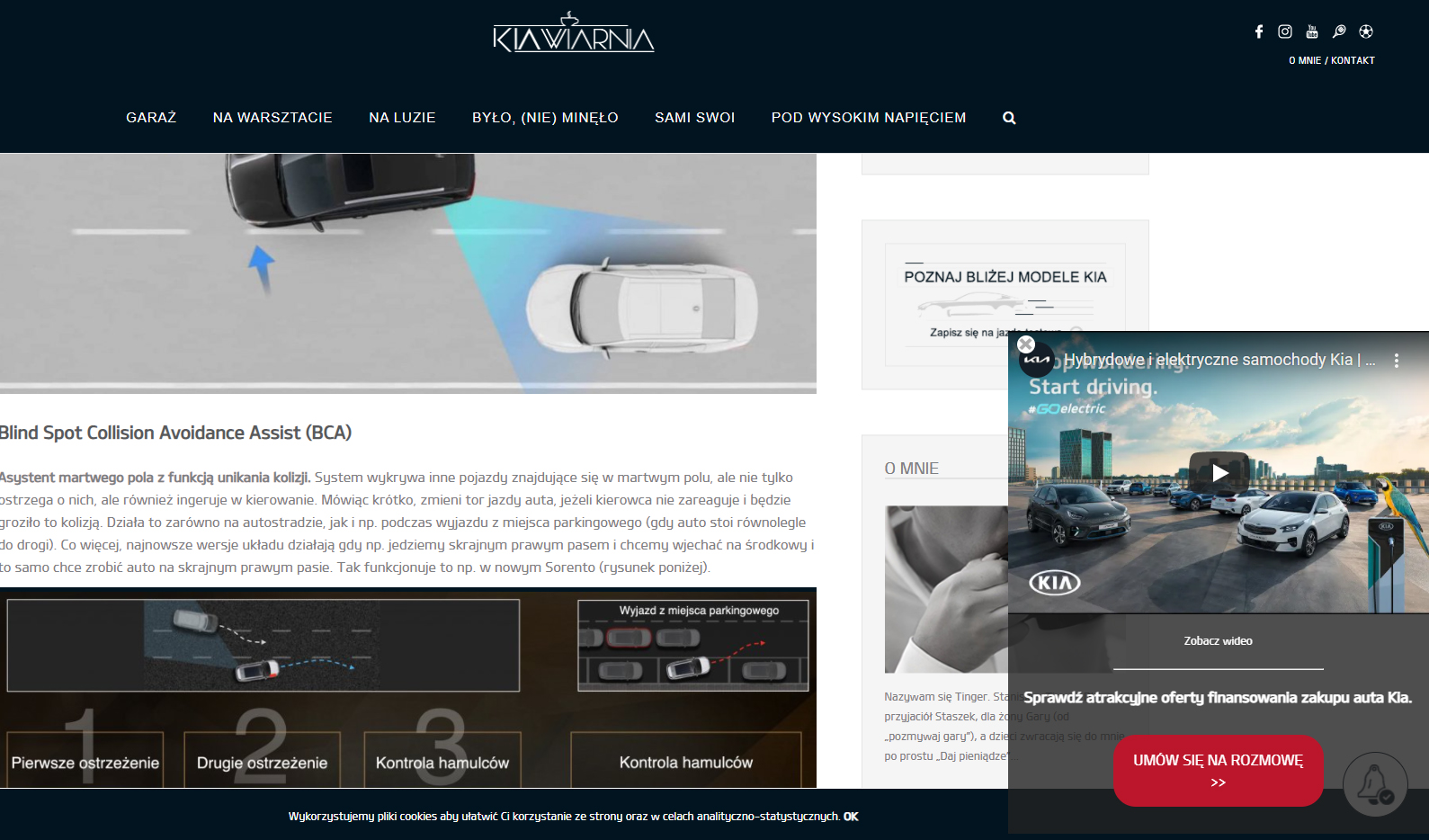 A website layer displayed to users interested in electromobility, including an invitation to a test drive.
Customer segmentation in the automotive industry – your company gains:
Segmentation also means monitoring the visited tabs during a visit to the website, dividing subscribers into those interested in new cars, vans, or parts for used cars. The marketing automation tool gives you the opportunity to segment the audience base into individual groups, e.g. based on the history of previous visits, car models viewed, or articles read on the blog. Now you can easily reach potential customers by inviting them to a test drive. Or maybe you run an online store with automotive accessories? Do you have regular customers who are happy to buy car gadgets? Send them a web push notification about new products available, e.g. an elegant key case, a car mini coffee maker or a dash cam.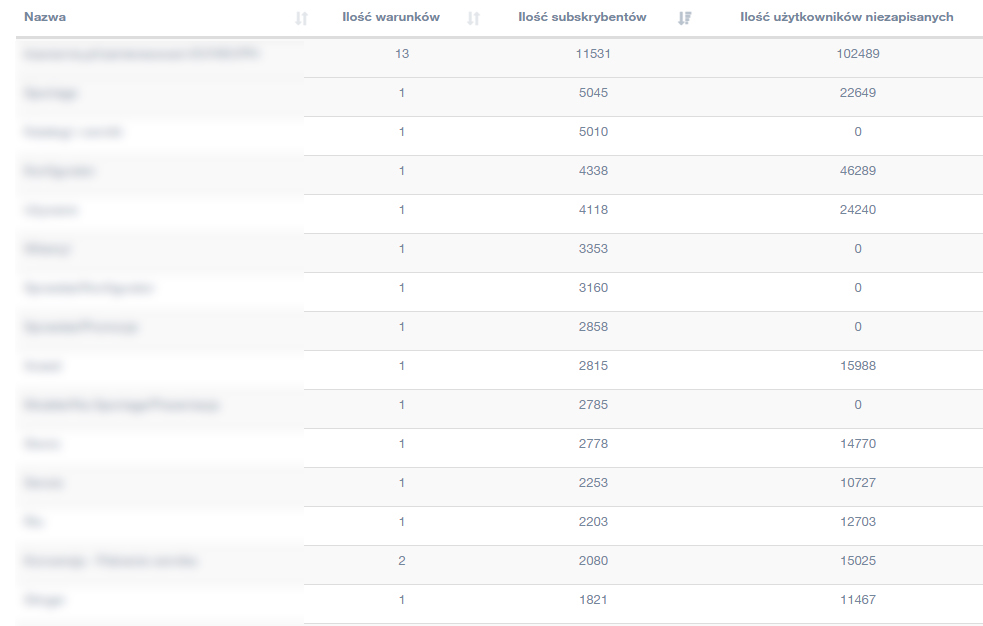 User segmentation by history of visited pages.
Segmentation gives you the opportunity to interact with the user from e.g. a selected location or using a specific type of browser. Especially when the promotional campaign concerning, for instance, a test drive takes place in a given city or province. This is a very helpful feature also for a network of traditional stores connected to an online store. Web push notifications give you the chance to send advertising messages to a specific location – invite a customer who has placed an order through an e-shop to visit a brick-and-mortar store.
Customer segmentation in the automotive industry – your customer gains:
The customer will receive only dedicated messages related to the promotion or a new offer that may interest them. Then they feel more connected to the brand and are more likely to visit the store's website to find out the details. All thanks to the ability to send dedicated messages to the previously created segment. It is possible to segment customers by postal code and location. By analysing the customer base, you will find out whether a potential customer is interested in premium goods, cheaper equivalents, discounts, or novelties. It suffices to track which tabs in the online store they visit most often (e.g. a subpage with promotions or news). This will give your customers exactly what they need at the moment. They will not have to look for the desired products in several online stores – they will receive a targeted notification about the availability of winter washer fluid, a discount on tyres or some automotive accessories.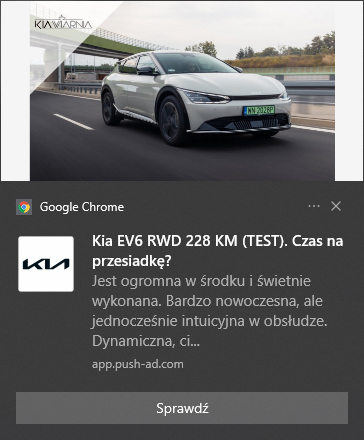 Web push notifications sent from the RSS feed
RSS feeds – your company gains:
Do you run an automotive blog? Make sure that potential customers have constant contact with your company. The RSS feed gives you the opportunity to quickly send notifications to the subscriber base about a new blog entry, cyclical promotions, or test drives. Owing to this, you have the opportunity to regularly contact customers. It is worth remembering that the advertising message should not be intrusive. The recipients who have subscribed to the page want to receive content relevant to their interests. Information articles on ecomobility, amendments to the road traffic law, introduction of a new car model to the market or self-help content on vehicle depreciation or care rules will be a hit.
RSS feeds – your customer gains:
Thanks to web push notifications, the audience gets exactly what they need, i.e. interesting information from the moto industry. Users are not limited to one portal or online store, so it is worth reminding them about your company from time to time by sending personalized content. These can be information articles sent via RSS feed or pieces of advice related to the use of a given product from an online store (e.g. how to disinfect a car with good quality disinfectants and a microfiber cloth).
Web push notifications are an extremely effective communication channel, because it is impossible to miss them. Subscribers who receive messages to their inbox need to segregate their emails, which can take too much time. It happens that they simply skip a message or delete it without reading.
Owing to automation and web push notifications, they will always be up to date. Depending on the browser they use, they can go to the landing page from the notification and save the article to read for later. Such a solution largely helps to maintain order and allows for getting acquainted with the material when the reader has time and feels like doing so. In addition, customers who regularly receive interesting notifications identify more with the brand and are more likely to visit the page, where they become familiar with the products offered by the store.
Mass campaigns in the automotive industry – your company gains:
Automotive stores that offer a broad range of products dedicated to different target groups can easily send mass campaigns. They work particularly well if the advertising campaign is to reach as many people as possible. Car showrooms can easily send notifications about events in a given city or region – marketing automation allows you to implement advertising campaigns based on the postal code or location of the audience. Mass sending of messages is also a good solution for a brand image campaign. Thanks to them, you will build brand awareness among the audience by providing familiarisation articles, materials on product topics, or advice related to the product use. Image campaigns can also be a great support for sales activities, strengthening the advertising message, and creating a coherent brand image.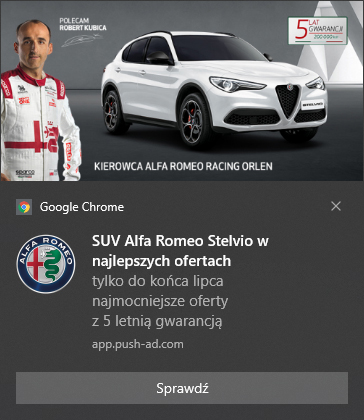 Mass sending of web push notifications
Mass campaigns in the automotive industry – your customer gains:
By sending mass campaigns to a wide audience, you can easily familiarise users with the company's products, brand values, as well as curiosities from the automotive world. Notifications are universal, so that the recipient can decide whether the content is interesting to him or her. After a potential customer goes to the website, you can monitor their behaviour, e.g. they read tips on car care, and then browse the tab with polishing sponges, microfiber cloths, or body cleaning products. A company that runs both auto detailing and an online store can offer a discount on products from the store after using the detailing service. The possibilities are immense, and the customer receives additional benefits that strengthen the bond with the given brand.
Check out solutions for other industries