Do you run a clothing store? Check how to easily encourage potential customers to buy! With marketing automation tools, you will reach people who are most interested in your products. Create effective campaigns in a few simple steps and increase traffic to your online store.
Solutions to help you boost your sales:
Automation – your company gains:
Automation scenarios comprise an automation rule that allows you to create different scenarios based on the behaviour of potential customers on the website. This simple change can help increase sales keeping the same number of users on the site. Thanks to automation, you have the opportunity to adjust communication to individual needs and expectations of your customers. Automation scenarios help increase sales by reducing the number of abandoned carts. This is a great solution when the customer has added a selected piece of clothing to the cart and closed the page without placing an order. This functionality gives you the opportunity to communicate with such a user again – the ad displayed may concern exactly the products the customer was interested in, e.g. trousers, dresses or shoes added to the shopping cart.

Settings for automation scenario conditions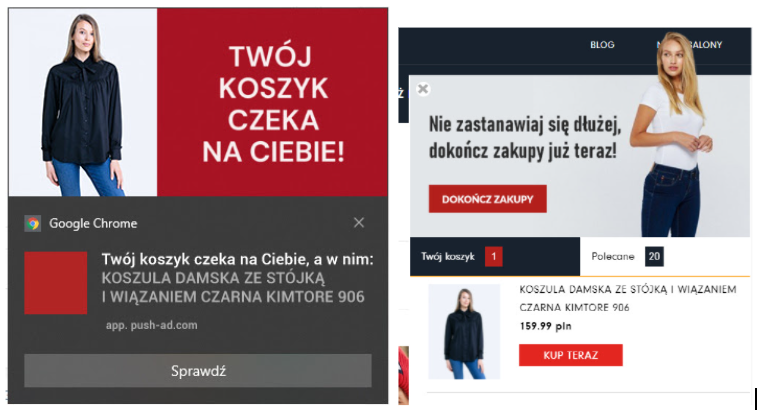 Cart recovery scenario with dynamic product graphics
Yet another example is the automated sending of fashion articles from your blog thanks to integration with the RSS feed or sending notifications about a reduction in the price of clothes, re-availability of a previously viewed but sold-out product, or a collection sale. This is a great way to re-attract potential customers who were planning to shop at your store. It also allows for tracking the number of visits to the site and the time spent there. In addition, by using automation, you have more opportunities to promote your online clothing store and, as a result, increase the popularity of your brand.

Settings for automatic RSS feeds
Automation – your customer gains:
Setting automation scenarios also means a huge support for your customers. Users often treat shopping carts as sort of storage rooms or shopping lists. They add individual items of clothing to the cart, such as shoes, sweaters, blouses, and then close the page to return to it a few days later. The function of "cart recovery with dynamic product graphics" or notifications about a reduction in the price of a previously viewed product additionally encourages them to visit your online store and place orders.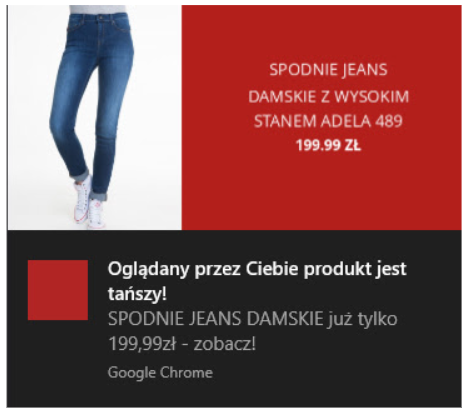 Notification of a reduction in the price of the product viewed.
Scenarios triggered by means of various triggers (events that occur during users' visits to your website) effectively motivate customers to take advantage of the store's offering. The advertising message contains a reference to the offer that the potential customer was initially interested in. This may be, for example, information about a product abandoned in the cart, a change in the price of the shirt, trousers or shoes viewed, or about the reappearance of this product on sale after a temporary unavailability. This means that customers do not have to search for products again – they will receive a reminder about unfinished purchases. Thanks to automation, the user will be kept informed about a new collection of clothes or sales. They will not miss any news! What is more, it's a good option to offer potential and existing customers extra discounts or free delivery. The implementation of automation rules is an advantage for both the clothing store and the customer who receives exactly what he or she needs.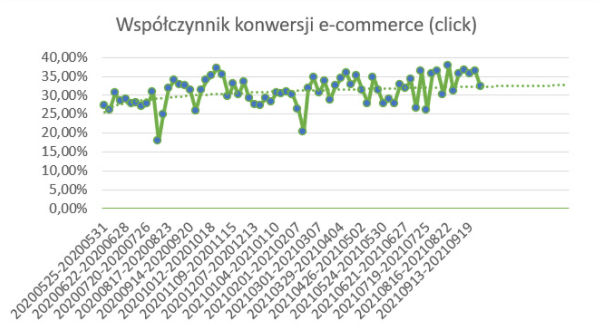 Conversion statistics of one of the Polish brands operating in the fashion industry – an automation scenario recovering abandoned carts in the form of a website layer. The chart shows data on user clicks in an on-site format.

Statistics of on-site scenarios of one of the Polish fashion industry brands.
Segmentation – you company gains: 
Every online store has great opportunities to collect information about its customers, but not all of them use it. Marketing automation tools allow for segmenting the audience on the basis of the history of purchases, preferences, lifestyle, or user behaviour on the website. Thanks to this solution, you can get some customer characteristics, find out how much they spend in the online store, what clothing they are interested in or how they got to the site. This is extremely valuable information that helps to reach a strictly selected audience. By classifying users (e.g. women aged 30-40, interested in premium business clothing), you can send messages about a new collection of jackets, shirts or skirts. Such actions will certainly increase the chance of selling specific products.

Segmentation based on categories viewed
In addition, thanks to segmentation, you have the opportunity to direct the message to a selected location or type of browser, and even to people with specific demographic characteristics, interests and purchase intentions (thanks to integration with DMP) or using a specific Internet provider. This is a very helpful feature, especially if you want to reach narrow audiences for which you have a dedicated offer. Thanks to geolocation and the possibility of sending notifications to a specific location, you can invite a customer who has placed an order through an e-store to visit a brick-and-mortar store. In addition, you have full access to:
most frequently visited specific subpages in the clothing online store,
categories of products that are popular with your customers,
number of views of a given product.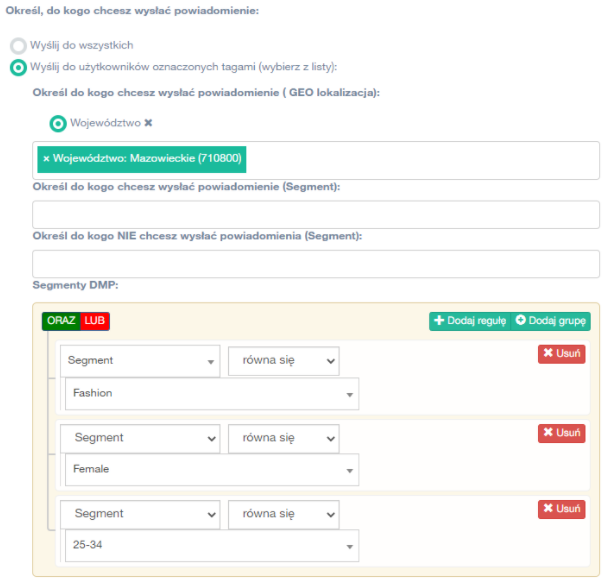 Segmentation – your customer gains:
Customers want to receive content that matches their interests, needs, and expectations. By analysing the audience base, you will find out whether a potential customer pays special attention to discounts and promotions (e.g. visits subpages with promotions, special offers). In this case, the main message may be information regarding sales or discount codes. However, it should be borne in mind that customers' shopping needs may change and they will expect different information at different times.
By optimising marketing automation campaigns, we give the recipient exactly what they need – for this purpose, user behaviour on the website should be monitored on an ongoing basis. The customer receives only dedicated messages related to the promotion or a new offer of clothes. This is all thanks to the ability to target dedicated messages at a previously created segment. We have the ability to segment customers by:
postal code,
town or city,
voivodship
RSS – your company gains:
RSS (Really Simple Syndication) is a great way to quickly deliver an advertising message or inform users about a new blog article. Potential customers mainly decide to buy a product in the store that adapts the offer to their needs and interests. However, that's not all – they must have constant contact with the brand. The message cannot be intrusive and purely advertising. In order for the customer to identify with the brand, they should also receive other information, e.g. advice on choosing accessories for a specific style or matching colours when styling their clothes. With RSS, you have the opportunity to regularly contact customers, regardless of whether you want to send information about promotions or encourage them to read a new blog post. Thanks to automation rules, notifications are automatically sent to the subscriber base. Marketing automation also gives the opportunity to place within the content of the pages viewed mentions in the form of dynamic content about unread blog entries. Then, website visitors will receive a recommendation for content that is of interest to them. Thus, we will get to know their interests better, observing the response to various content and we can maintain their contact with the brand.
RSS – your customer gains:
Currently, the Internet is marked by dispersed information. This means that the user is not limited to using one online store or fashion blog. Entering dozens of websites and browsing new products is definitely not comfortable for the audience. The use of RSS to distribute content from a blog is much more convenient than popular newsletters sent to the mailbox. The recipient often has to segregate emails to reach interesting content. A much simpler way is to provide users with notifications that are impossible to go unnoticed. All they have to do is to click on a popup and go to the page. Customers regularly get messages that may be of interest to them, owing to which they identify more with the brand and are more willing to visit the website, where they get acquainted with the products offered by the store.
Bulk campaigns – your company gains:
Clothing stores have broad leeway as regards seasonal sales or the arrival of a new collection of clothes for a given season. If you offer a wide product range, allowing for picking out all the clothes needed for a given time of the year, sending bulk campaigns can be a hit. Then potential customers will have a large choice, e.g. summer office outfits as well as typical holiday clothing. In addition, thanks to bulk campaigns, you build brand awareness among your customers on the basis of familiarisation articles, information on promotions or product-related materials.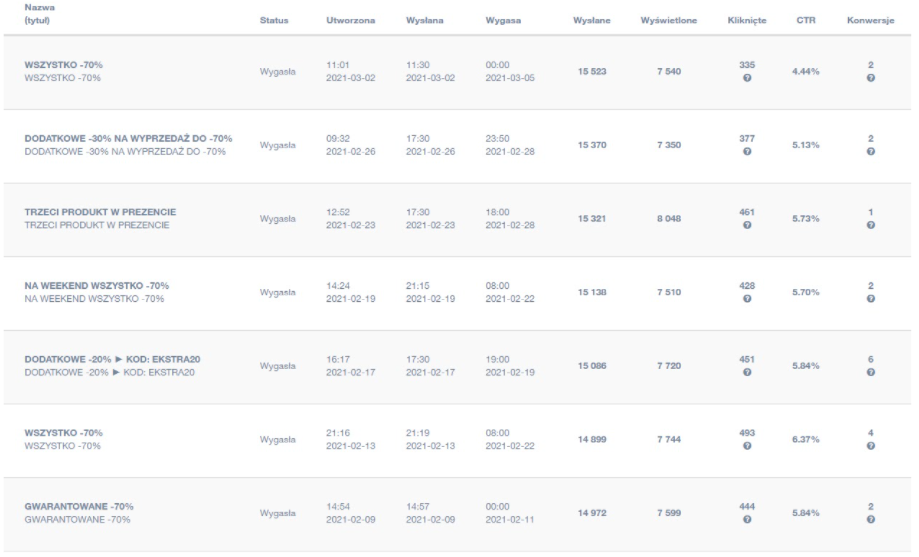 View of bulk messages sending
Bulk campaigns – your customer gains:
The notifications sent are universal, thanks to which recipients can decide on their own whether the content of a given message is interesting to them. Most users receive web push notifications much faster than emails. An attracted user will click on the notification and go to the page to get to know the details. By sending bulk campaigns, we can make it easier for the recipient to get acquainted not only with products, but also with tips on clothing, trivia from the world of fashion, as well as the values embraced by our brand.
Check out solutions for other industries