Gather leads using web push notifications!
As an e-commerce business owner, you are certainly aware of the importance of acquiring new sales leads. If you are just starting your business or you want to get to know different ideas for their acquisition, you will find them in our article.  
What we mean by sales leads is people or companies that are interested in your offer or starting cooperation. To put it straightforward – a lead is a potential customer who has filled in a contact form, sent an inquiry regarding your offer or contacted your company by phone or email.  
If you do not want to wait for a potential customer to make a move, it is worth becoming acquainted with various marketing methods and activities within your website. These comprise among others:  
content marketing  
Google Ads  
social marketing  
benefiting from services of agencies specialising in collecting sales leads  
using the PushAd tool  
It is worth knowing that acquiring sales leads looks completely different in the B2B or B2C segments, which is confirmed by the findings of the following survey conducted by HubSpot in 2017: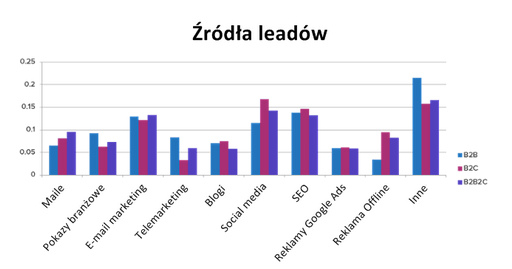 Source: "Where Do Marketers Get Leads?", HubSpot. Publication dated 03/06/2013 updated on 05/09/2017
When deciding on the way to obtain new sales leads, it is worth getting to know the most popular ones.
Company blog  
Before a user who visits your website becomes a potential customer, he or she wants to get acquainted with the offer. It is a good idea to create a "blog" section where you can publish content related to content marketing. In the content, add some unobtrusive banners and call-to-action buttons that will encourage conversion. 
Video marketing
Video and live broadcasts are admittedly the most time-consuming and expensive forms of content marketing. However, if you put in them the right elements that will allow customers to go to your website, offer or contact your customer service directly, this will increase the likelihood of getting new sales leads.
Email marketing  
Newsletters are recognized by B2B marketers as one of the most common ways to acquire sales leads. However, after the introduction of changes related to the GDPR, it is crucial to obtain email addresses legally. That is why it is so important to have subscription forms for the newsletter attractive enough for a potential customer to subscribe to them and not to get subsequent messages sent by you into the SPAM folder.
Web push notifications  
PushAd is an easy-to-use tool aimed at boosting sales. Web push notifications are short messages displayed via web browsers. Importantly, the tool is fully GDPR-friendly – messages are sent without collecting email addresses or phone numbers. It is enough for your website visitors to agree to receive notifications. By using PushAd, you can send messages to your subscribers encouraging them to benefit from a promotion or visit a given website.
Source: "Where Do Marketers Get Leads?", HubSpot. Publication dated 03/06/2013 updated on 05/09/2017